Black Christmas 2019 (Analysis with minor Spoilers!)
Hang on for a minute...we're trying to find some more stories you might like.
Black Christmas is Sophia Takal's 2019 Mystery / Slasher film. This is the second remake of the original Black Christmas made in 1974. In 2006, the first remake was made receiving poor reviews. This unique 2019 version, though, is not just about violence and horror, but also exhibits sexism and feminist statements. In my opinion, Takal had a very intriguing take on the 1974 classic movie. Her version represents the world outside the theater in ways other horror movies don't.
About the Antagonist
The movie opens with the deceased Calvin Hawthorne's quote. "Man possesses powers so formidable they can only be considered supernatural. With a proper education, men can wield these powers and go forth into the world." Calvin Hawthorne is the racist and sexist founder of Hawthorne college. He had an obsession with the supernatural and the dark arts. There's a bust of Calvin Hawthorne which is displayed in the school. It serves as a physical source of control and power. Back to Hawthorne's quote, the fraternity boys, who are compelled by the bust, "wield these powers" against women who aren't subservient to men. One of Hawthorne College's professors, Mr. Gelson, exposes his obsession with Hawthorne. He speaks of the college's past as "…200 years of history, of sacrifices and keeping the continuous traditions…" Now the question is, what kind of "sacrifices" and "traditions"?
Uncanny Events 
The sorority girls have a secret Santa party and notice they're missing a sister. Lindsay can't make it because she's walking to her grandmothers. As Lindsay walks in the dark on her own, she receives an anonymous message. "What do a Christmas ham and a sorority girl have in common? They both squeal when they die." This anonymous person has used the deceased founder as their name, and even has the bust as it's profile picture. Eventually, all the sorority girls realize they've been receiving threatening messages. Riley is the main character and a victim of rape. She reported it but unfortunately no one believed her. She is still traumatized by the assault of the praised fraternity president, Brian Huntley. Finally, Riley suspects he's behind the anonymous messages. Her suspicions are confirmed when a cult of the sorority brothers draped in black cloaks break in attempting to kill the sisters. The sisters retaliate and notice instead of blood that spurts from the pledges wound, is a tar like substance. This tar rolls down from the eyes of the bust which seems to serve as a substitute for blood.
The Power
We learn the fraternity brothers have developed some sort of misogynistic powers from the bust to inflict violence upon the sisters. Riley is kidnapped at the fraternity house discovering the brothers have been collecting and hoarding the sister's valuables. This is for knowledge so the boy know who to kill next. Mr. Gelson returns as the leader of this cult and explains to Riley his motives. He claims that women "…falsely accuse and threaten the livelihoods of men." Now it's their time to "correct" the subservient women. But before any harm could come to Riley, the sorority sisters come to her rescue as they fight for there freedom. Riley begins a fire during battle which helps everyone except for the brothers successfully escape. She burns the sadistic patriarchy down, leaving them and their misogynistic ways to cinders.
Reviews
Jeffrey M. Anderson from the Common Sense Media commented, "Having little to do with either the 1974 classic or the very poor 2006 remake, this holiday horror reboot is a strong attempt at a feminist statement that often goes either haywire or not far enough." Some people utterly despise the 2019 remake because it was predictable. Personally, I enjoyed this movie because I love horror and the retaliation that happened. I sincerely commend Sophia Takal for her insightful look into feminine unity. If you're a person who enjoys a mild horror movie, I would absolutely recommend going to see Black Christmas. See it in theaters while it's still out!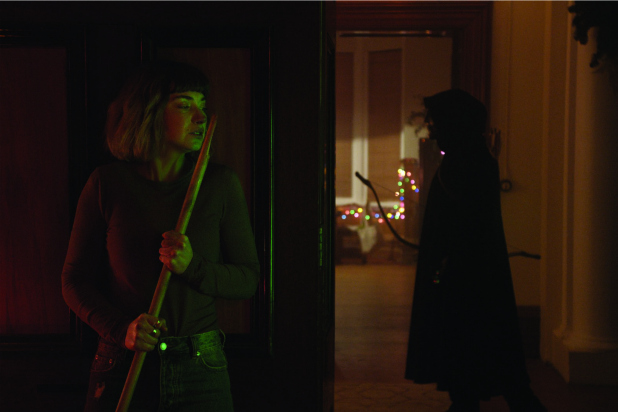 About the Writer
Brielle Thomas, Copy Editor
Brielle Thomas was born in Newark, NJ, February 17, 2003. She is a 16-year-old junior attending John F. Kennedy Memorial High School. Brielle enjoys cooking,...