Student vs. Faculty Basketball Game
Everybody at JFKMHS gathered on Nov. 20 to watch the most important student-body competition of the year: the Students vs. Faculty Basketball Game. After the rigorous and enthusiastic showdown, the faculty took home a win, beating the students 55-43. 
Game Technicalities
In closer detail, each grade had two teams so the game lasted a total of 40 minutes. Each team had five members and played for five minutes. Moreover, the faculty had less members so all the teachers played for more than one round. Yet, everyone tried their hardest to claim that number one spot; their energy was evident on the court. 
Throughout the game, the faculty was always at least 10 points ahead of the students. A few times the dynamic students seemed they could take the lead; however, the determined faculty kept their position. 
Mr. Seavy, a mathematics teacher who played for the faculty, stated, "It was a great effort on the other side but I think the teachers worked together better as a team and had more experience." 
On the other side, Jaeden Owusu, a senior player, expressed, "I feel disappointed that we lost to the teachers. I would say we would get them next time but we're graduating!" 
Furthermore, half-way through the game, students were able to pay $1 to make a half-court shot. If they made it, they would win a Dunkin' Donuts gift card. Unfortunately, no student was able to make a shot.
Supporting a Good Cause
Additionally, students who wanted to play were required to sell tickets for $5. Senior Nadir Cassiem sold the most tickets, selling a total of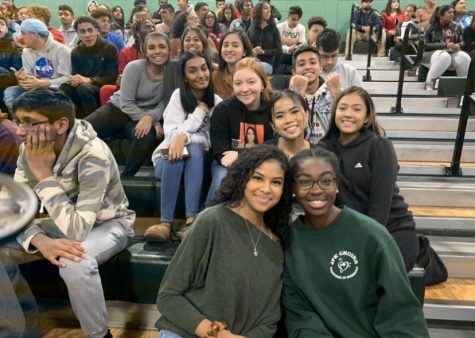 17, and won a $50 Amazon gift card for his efforts. On the other hand, the faculty was encouraged to pay for their spot to play. 
The game was held by the National Business Honor Society and organized by their members. All funds were donated to create entrepreneurship programs for women in Tanzania. Women can start their own businesses with the tools provided from funding. The game raised a total donation of $1400, which has the power to assist dozens of communities across the world. 
Attentive Crowd
Overall, the game was entertaining, attracting a large, attentive crowd. "It was a really fun experience, I hope one day we win!" senior spectator Mallory McGowan added. Students cheered for their fellow classmates, even holding electronic signs on their cellphones. 
Principal Postorino also attended, watching the whole competition closely. "It was a good event. I am very proud of all the faculty because I didn't think we were gonna win. Students were excellent but better luck next time!" Principal Postorino encouraged. 
Congrats to the Participants
Congrats to the faculty: Mr. Christathakis, Mr. Kirk. Mr. Smith, Mr. Seavy, Mr. Migacz, Ms. Doran, Mr. Bonventure, Ms. Wernsing, Mr. de Voogd, Ms. Dilonardo, Ms. Sienkiewicz, and Ms. Santana. 
Good job to the students: Boubacar Ndome, Dariel Abreu, Haley Gardner, Ja'Nya Davis, Jahni Harper, Josiah Garcoa. Ofelia Castaneda, Sufyaan Hamlet, Mekhi Harris, John Carlos Acosta, Andruw Morillo, Ayman Pitts, Allen Hunt, Jeffrey Gonzales, Joey Kopchik, Luis De Los Santos, Malak Mowafi, Michael Pajak, Rhea Martin, Vishal Patel, Aalyan Asif, Allie Panganiban, Nadir Cassiem, Jaeden Owusu, Jesus Duran, Jimit Patel, Kristina Caroselli, Papa Asmah, Sofi Nyaanga, Stephen Yu, Ana Diaz Hernandez, David Reyes, Michael Darkwah, Harsh Borkhetaria, Jedidah Perez, Jesus Pujols, Koray Gumusay, Sidney de Voogd, Parth Patel, and Brandon Diaz.
Best of luck to everyone playing next year!