November Senior of the Month: Mallory McGowan
Congratulations to Mallory for becoming November Senior of the Month!
Mallory McGowan is an amazing, hardworking and honest senior here at John F Kennedy Memorial High School. All throughout her four years in high school, she has been dedicated to her work and has participated in many activities. While managing to bring home good grades, Mallory has participated in many activities such as show and women's choir, concert choir, the academic team, student council, and cheerleading. Mallory also acted in the school play all four years of high school . Mallory would especially like to thank the teachers who made her high school experience so memorable such as Mrs. Jones, Mrs. Ebner, Mr. Hill and Ms. Scott. She says that they have taught her valuable life lessons that she will carry on even after high school. 
What it takes to be Senior of the Month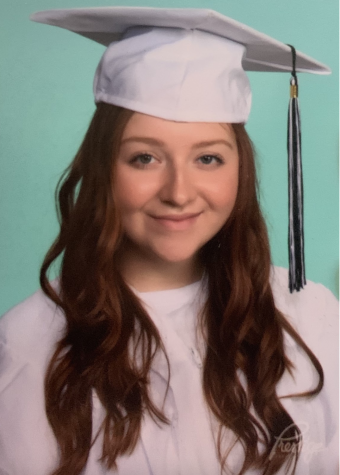 Mallory believes that in order to become senior of the month you should be willing to put yourself out there. You shouldn't be afraid to try new things that you have never done before. Although it may feel different, she believes that opening yourself up to new opportunities is the main factor that will make you stand out. She highly recommends that the underclassmen and the incoming freshmen try new things and take initiative in their clubs and activities. She wants them to know that they should join new clubs, not be afraid to ask questions and not be afraid to take part in activities that are different than what they are used to. Mallory believes being involved and putting yourself out there will make for a great high school experience. 
Plans for the Future
After high school, Mallory plans on attending TCNJ and majoring in biology with a focus in neuroscience. As for her career after her studies, she wishes to pursue neurology. 
The Torch wishes Mallory nothing but the best for her future and the rest of her high school career!!