Book Review: "Anatomy: A Love Story"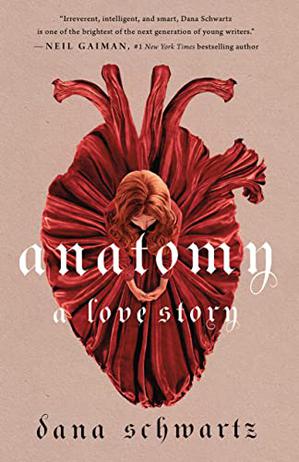 Dana Shwartz's historical fiction novel, "Anatomy: A Love Story" presents a gothic tale of romance and suspense in 1817 Edinburgh about a young girl with a passion for medicine, a resurrection man who digs graves for a living and the mysteries buried deep within their society.

"Anatomy" does a fantastic job at presenting a strong female lead, an invigoratingly suspenseful mystery and a gothic atmosphere of eeriness and uncertainty. Through the eyes of Hazel Sinnet, readers are able to grasp and empathize with the adversities women faced during the 19th century. Hazel, with the determination to choose her own future, constantly perseveres through every obstacle thrown her way to strive towards her dream of becoming a surgeon. Through Hazel, Shwartz is able to highlight and emphasize on the frustrations women felt while battling societal norms and working to achieve their dreams.

Hazel is one of the most impressive female leads in a YA novel. She is incredibly intelligent and talented and she doesn't let anything hinder her from her purpose of becoming a surgeon. She is constantly frustrated with the way society works against her, but she doesn't let this bring her down. Needless to say, her character is nothing short of inspiring.

Additionally, "Anatomy" displays an incredibly interesting mystery and builds suspense and tension throughout the novel. From the very beginning of the novel, mysterious disappearances and suspicious characters are revealed to Hazel, building tension towards something terrible happening in the town. These mysteries present a wonderfully gothic feeling in the novel, giving the reader a spooky and eerie tension all throughout.

"

"'Anatomy' does a fantastic job at presenting a strong female lead, an invigoratingly suspenseful mystery and a gothic atmosphere of eeriness and uncertainty.

"

However, it lacked an impactful ending to seal it all in; the ending of the novel was disappointing, to say the least. After about 200 pages of building up to the (rather predictable) truth behind the mystery of missing people and missing limbs, the climax and resolution of the story just seemed to fall short. After all of the suspense and tension Shwartz creates throughout her novel, the climax, with Hazel finding the operating theater and seeing the eye transplant happen, provides a promising premise for a satisfying conclusion to the novel. However, despite this being a major plot point, it seems rushed.

The resolution of this situation could not have been any more unsatisfying either. The pacing seems to be moving too quickly, with Hazel stabbing the guard and Jack knocking out Dr. Beecham within a matter of seconds; everything settles too abruptly and easily. There is no clear resolution to the whole situation with Dr. Beecham and it seems that Hazel, who spent the entirety of the book working towards helping people, was just going to let Dr. Beecham continue his immoral surgeries. Everything seemed to be over very quickly, making it feel unresolved and disappointing.

What was most disappointing though, was the romance. While "Anatomy" is advertised as a love story, the romance in the novel was sloppily written. There is no development between Jack and Hazel before they fell in love. The chemistry between the two of them was lacking and it seems like they liked each other simply because they were around each other. It is hard for readers to really see how much they love each other until the very end of the novel, during the scene where Hazel gives Jack the immortality potion. Up until that point, it seems that while they did care for one another, they were hardly in love with each other. While Jack was missing, Hazel was hardly worried about him and even when he was gone after escaping the country, Hazel hardly seemed to miss him. There is nothing to suggest a great love story between the two of them. Romance, in this novel, seems more like a subplot than what the title might suggest.

If readers are looking for a true gothic tale filled with romance, mystery, medicine and horror, The Torch suggests "The Death of Jane Lawrence" by Caitlin Starling.