JFK Garba Night
Read about JFK's Garba Night!!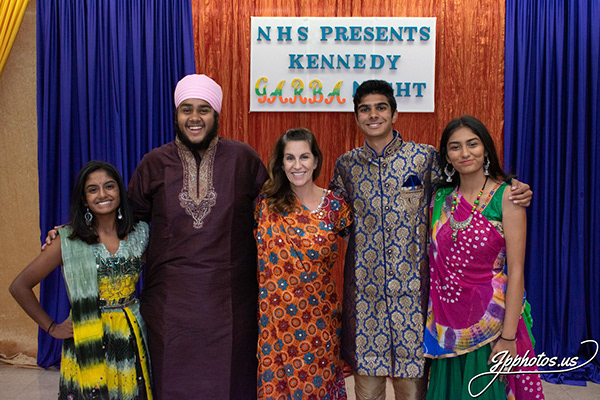 Tanisha Gadhavi, Bidisa Choudhury, and Payal Chitoda
October 22, 2019
On Oct. 3 at 6:30 p.m. our school's Garba Night took place in the cafeteria organized by Ms. Kurowsky (advisor of NHS) and the National Honors Society. The night was filled with music, food, singing, and most importantly dancing. Garba is a form of dance which originated in the state of Gujrat that is performed with a group of people. Hindus celebrate Navratri in order to worship the Goddess Durga who symbolizes power and purity. The main ritual that some people do is fasting or avoiding food grains like rice, wheat, and pulses (beans, lentils and peas) for nine consecutive days. Eating fruits, milk and yogurt is acceptable.
The Garba Night consisted of a lot of traditional Garba songs and some Bollywood Garba songs. All the people who attended the Garba Night were dressed in traditional clothing(Lengha Choli, Kurts's, Anarkali's, Saree's)  that included both students and teachers. The guests danced all night to traditional Gujarati music. The NHS members decorated the cafeteria with vintage Gujarati umbrella's and the entrance of the cafeteria was decorated with curtains and cutouts of one male and one female playing garba. Payal said "the decoration was well organized and the cafeteria looks very colorful." Altogether the traditional clothing and the traditional decorations coordinated and make the night even more memorial. 
To add on, during the break, Sparsh Shah sang the song "Nagada Sang Dhol" while everyone was enjoying a mixture of American and Indian foods: Pizza, Veg Pulav, Pav Bhaji & Bread, Alfredo Sauce Veg Pasta, Red sauce, Aloo Vada, Chips, Water. Tanisha commented on the  food she said" the food was very flavorful and they had a great variety of foods." After everyone was done eating they continued dancing until the NHS announced the winners of the raffle tickets who were: Vivek Patel, Om Patel, and Krishang Patel therefore ending the event.
A big thank you to all those who attended the event!
Don't forget to follow our Instagram account @thetorchjfk !!