The 2022 Homecoming Queen is…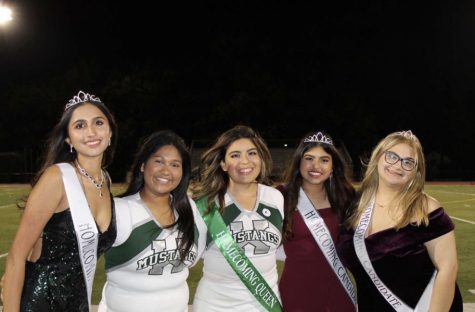 On Friday, Sept. 30, 2022, John F. Kennedy Memorial High School hosted its annual Homecoming Game vs. the Linden Tigers where Caitlin Ticas was announced as this years homecoming queen.
The theme of the night was "White Out" in memory of the Tigers' late sophomore, Xavier McClain. Students from both schools wore their white clothes and accessories at Friday's game, despite being on opposite sides. The game resulted in a loss for the Mustangs, 34-6. 
Even though, Roshni Aneja, Khushi Shah, Ashley Kish, & Rida Kadri were all part of this year's homecoming court, the winner for the 2022 homecoming queen was Caitlin Ticas.
"I was really nervous and I didn't expect it at all, so I was just really thankful for everything," Ticas stated.
Ticas goes on to explain how she got, "most of the support from the students, teachers, and friends."  Additionally, she mentioned that everyone expressed their support with "shirts, posters and a lot of people were saying my name and that just made me feel really nice."