Kennedy Robotics: Preparing to Start the 2020 Season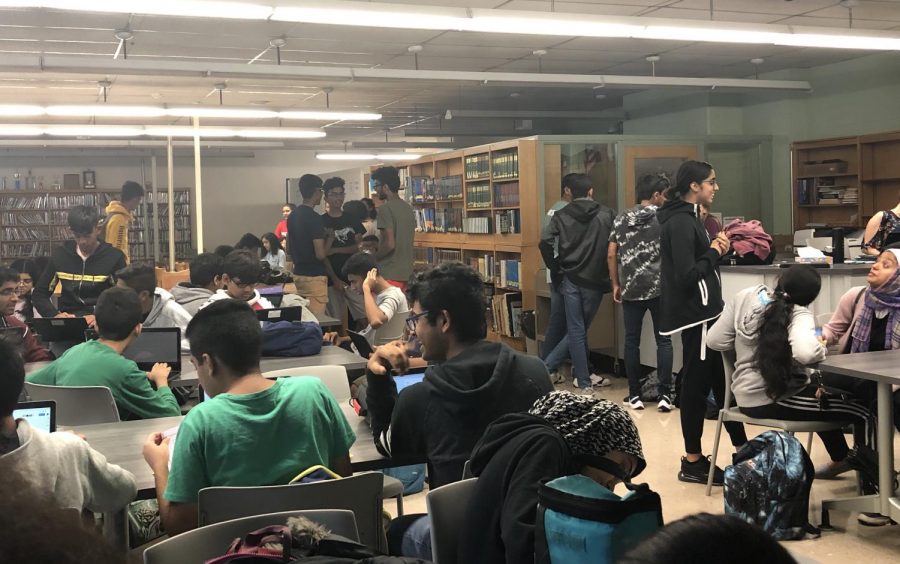 Jenica Liang
October 11, 2019
The Kennedy Robotics club had its first meeting of the 2019-2020 school year on Oct. 7. The meeting took place in the library after school. The club is a participant in the FIRST Robotics Competition, an event run by non-profit organization FIRST.
What is FIRST?
FIRST is an international youth organization that seeks to engage students in STEM-based learning. As said in their official mission statement:
The mission of FIRST® is to inspire young people to be science and technology leaders and innovators, by engaging them in exciting mentor-based programs that build science, engineering, and technology skills, that inspire innovation, and that foster well-rounded life capabilities including self-confidence, communication, and leadership.
Kennedy Robotics, also known by their team name "Pneubotic Mustangs," has been a participant in FRC for several years. In the competition, students have 6 weeks to design, program and assemble a robot that completes the task assigned that year.
Kennedy Robotics: The Pneubotic Mustangs
Kennedy Robotics, also known as the Pneubotic Mustangs, consists of multiple teams. The teams and their respective Captains are:
Business Captain – Krutal
Electrical Captain – Surya
Electrical Captain In Training – Roshan and Anbar
Hardware Captain – Santoshi and Dalton
Outreach & Fundraising Captain – Shelin
Media Captain – Shayan
Media & Outreach Captain in Training – Jenica
Programming Captain – Rahul and Rupak
Programming Captain in Training – Aditi
Secretary Captain – Sarang
Secretary Captain in Training – Ashwindev
Safety Captain – Darshwana
Pre-build season, the club meets every Tuesday unless otherwise specified. Additionally, there will be separate Programming Meetings open to anyone interested. During build season, meeting dates will be determined based on your Team Captain. Check the calendar to see when the meetings are.
Build season begins on Jan. 3, after Kickoff. Kickoff is an event where local Robotics teams meet to discuss and share ideas. At Kickoff, the task for the year is assigned. Previous tasks include shooting a ball through a hoop and attaching a hatch to a cubicle. The season lasts until Feb. 19, 11:59 p.m. Currently, there are plans to attend two competitions in March: one at Mount Olive High School and one at Bridgewater-Raritan High School. Further details regarding the 2019-2020 season can be found on FIRST's official website.
The Pneubotic Mustangs is a popular club for those interested in STEM, as well as those interested in having fun and working together with their friends on an involving and academically stimulating project. As said by one of the club's advisers, Allison Jones, "I love robotics. It's an opportunity to spread science and technology into our community while also teaching kids about responsibility and leadership. It's a club that anyone can learn from." 
Future Plans
The next Robotics meeting will take place on Oct. 22, in Room 109. At this meeting, each team will set up a station and new or returning members will be able to learn more about each team and what they do. Teams cannot be overcrowded, as that would limit their productivity. In other words, each team will only accept a certain amount of members. Afterwards, members will be notified of their placement on google classroom. Students not placed on any team can still attend all competitions. However, they will only be allowed to attend general meetings. Furthermore, there will be a tournament viewing on Nov. 9 at the Brunswick Eruption. At this event, students will be able to see firsthand what an FRC looks like, as well as interact with other teams from other schools.
As stated earlier, the season is time-restricted. Therefore, joining the club is a serious commitment. As a result, three unexcused absences will result in removal from the club. The team Captains will handle any conflicts in scheduling. For those interested, the google classroom code is fo02xtt. To join the remind, text @pneub1920 to 81010. Additionally, anyone with questions concerning the club can ask Mrs. Jones or Ms. Burns, the advisers of the club. Here's to wishing the Pneubotic Mustangs the best of luck for their 2019-2020 season!
About the Contributor
Jenica Liang, Op/Ed Editor
Jenica Liang is a 14-year-old sophomore currently attending John F. Kennedy Memorial High School. She is an author on The Torch, and this is her first...