Ohora Nails: Worth The Hype?
The Torch tested out Ohora nails so you don't have to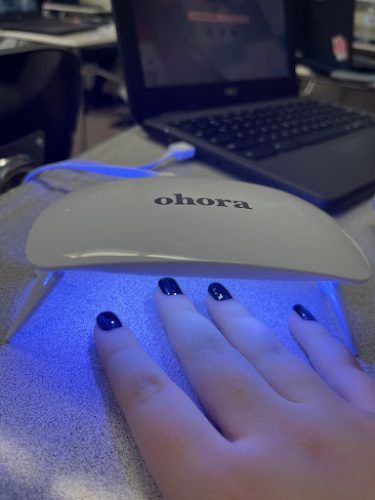 The Torch was not paid for the following review.  All products were personally purchased.
Ohora nails, launched in Oct. 20, 2022, are lab made gel nails that come in a rectangular package, costing roughly $19. These nails come in many different designs, and our packaging came with 30 nails in total; 2 strips. This brand claims to give you a "salon-quality" nail set in minutes! The Torch decided to put these nails to the test. 
The model we used is called "Lunar Eclipse." It came with 16 dark purple nails, 8 purple marble nails, and 6 light purple nails with golden moon charms. These nails came in 8 different sizes. We gave the overall design of these nails a 7/10 prior to putting them on. We were not fans of the galaxy purple nails, so we didn't use them. The back of the package came with instructions, which we followed step by step.
First we cleaned the nails, then put a finger underneath the strip to see which was the size we needed, took out the nail strip, then shaped it onto the nail. No glue was required, and we had no problem sticking them on. At first, we did have an issue of not having enough of the same colored nail size, since each one is a different shape. Luckily, because they are gel nails, we were able to stretch out the nails. Carly Gruskowski describes the texture as  "jelly" when the nails were pressed onto her fingers.
It took us almost 42 minutes to finish attaching all 10 nails. Although it took a while, applying them is a very simple process that can be much quicker with experience. We rate the overall process an 8/10. Then, it was time to put them under blue light. The blue light is also from Ohora, and each hand took 3 light sessions to fully cure. We dried the thumbs twice individually in order to make sure the charms would stay on.
"They feel harder now. It feels like I'm not even wearing nails," Gruskowski stated.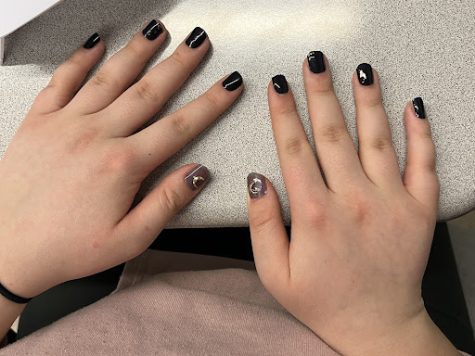 The Results
Ohora Nails claimed these nails would last up to 2 weeks, yet the next day, Gruskowski came into school reporting that 2 nails had broken off! It was the thumb and the pointer finger nails.
"The moon charm on my thumb kept getting stuck on my clothes and got ripped off. The other one I lost in my sleep," Gruskowski complained.
Day 5
We are now 5 days in, and 3/10 nails are gone. That's pretty disappointing for a $19 nail set. 
So, are Ohora Nails worth the hype? We believe these nails are not worth your money. They come off really fast, and the charms cause inconveniences, by getting stuck on hair and clothing. Our experience could have been better with nails that didn't come with charms, since they kept getting stuck on clothes and hair. You can easily just paint your nails yourself the same color, because there is nothing special about the design. It's a cool concept in theory, but the product isn't very good. The Torch's final thoughts: Save your money!
The Rating
The Torch gives Ohora Nails a  4/10. Although the designs aren't too bad, and their website has a lot of different options, they just don't last that long which left us feeling unimpressed.
Leave a Comment
About the Contributors
Priscila Morillo
Priscila Morillo is a sophomore at John F. Kennedy Memorial High School where she is a contributing member of The Torch. This is Priscila's first semester...
Carlene Gruskowski
Carlene Gruskowski is a 15-year-old sophomore at John F. Kennedy Memorial High School. This is Carlene's first year taking journalism and she is a new...