Mustangs ring in the new season with running of the halls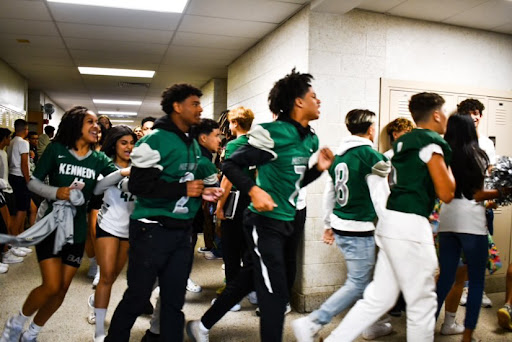 The 2022-2023 school year kicked off with an enthusiastic start when the John F. Kennedy Memorial High School students lined up along the hallways for the traditional running of the halls.  
On Sept. 9, 2022, the students watched as the marching band and cheerleaders led the way for the rest of the fall senior athletes. 
Running of the halls is a unique tradition that the Kennedy Mustangs participate in every year. During the pre-covid era, students would line up along the halls and cheer on the athletes. The celebration would occur on Fridays when the varsity football team had a home game. In 2021, students were forced to watch the event through classroom doors due to the pandemic. After covid restrictions were lifted, students were back in spirit to cheer on the teams.
This years running of the halls brought the JFK Mustangs together, giving a glimpse into a new school year of no masks or virtual meetings.